Welcome to the Mainely Skiing Weekly Email! This email will be sent straight to your inbox at the end of every week to highlight what's happening with your Maine ski resort!
Christmas Tree Lighting:
Santa will be coming to town on Saturday, December 18. He'll be accompanied by Amos & friends. Sugarloaf will spread the holiday cheer with warm treats, music on the beach, fireworks, and more! Check out the entire event rundown below.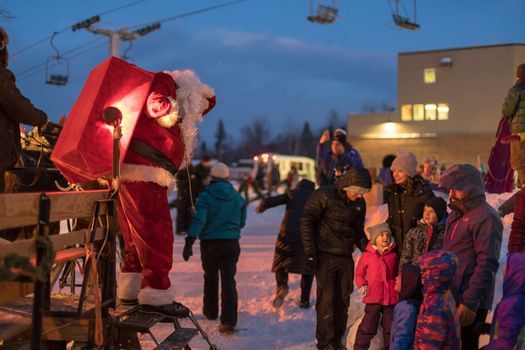 Winterfest Weekend:
What better way to celebrate Sunday River's birthday? Winterfest Weekend is all about fun on snow plus a plethora of activities to celebrate, like the annual season opener for twilight skiing. Read about all Sunday River has to offer.
Mountain Report:
Saddleback: 6 / 67 Trails Open
Sugarloaf: 26 / 162 Trails Open
Sunday River: 42 / 135 Trails Open
Trail of the Day: Tri-Color
Last Chair:
Weekend snow coming out way! Read more under the weather section. The storm is calling for around 4-10 inches around the various resorts. Also, A BIG thank you to Shae, Michael, and Leb for liking last week's email! You guys are awesome.
Weather:
Snow, Snow, Snow! Bring it on Mother Nature! This Saturday will be an awesome day to strap on the ol' skis and head out for some good old fashion New England powder. Check out the lift status by clicking the link below!
| | | | |
| --- | --- | --- | --- |
| Day: | Friday: | Saturday: | Sunday: |
| High: | 37 | 25 | 24 |
| Low: | 18 | 17 | 1 |
Based out of Rangeley
Shread the pow!
-Keegan